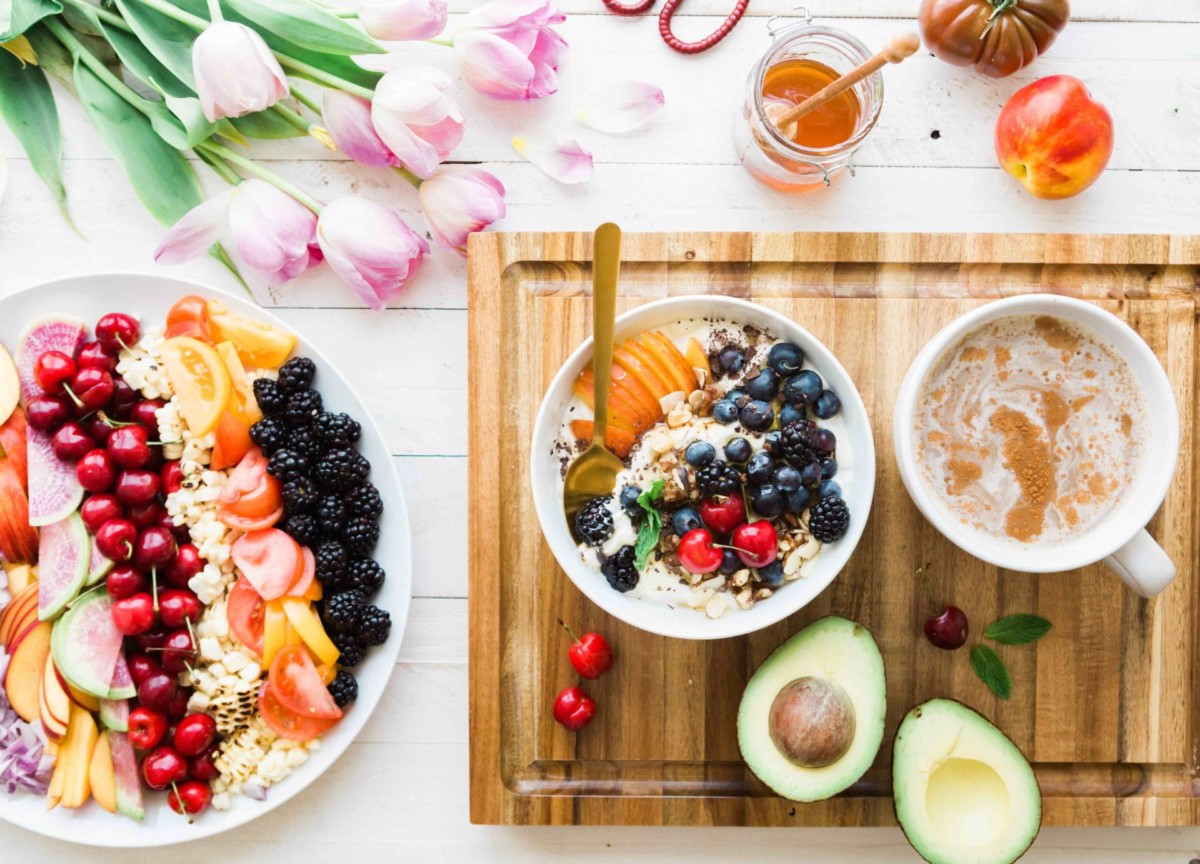 Happy March Everyone, I hope that all your New Years' Resolutions and your nutrition goals
are going well! Though, if you haven't had luck keeping up with your resolution, you aren't the
only one. If you are having troubles sticking with your nutrition goals, I'm here to give you some
tips and tricks to staying on track with your nutrition goals.
Tip 1: If your initial nutrition goals this year were too lofty and you're still having a hard time
attaining the goal, you should start smaller. You shouldn't expect to go from skipping breakfast
and lunch every day, to initiating daily meal prep for a healthy, balanced breakfast and lunch.
This huge jump is attainable for very few people. Try starting with small steps, like having a
healthy, easy snack or meal at your breakfast and lunch times (especially if your job demands
that you take only 10-15 minutes for breaks). This could be a Greek yogurt for breakfast and a
salad kit for lunch. These products are made for those of us who have so little time that we need
to grab-&-go.
You can also take non-perishable or freezer meals to work so that if you forget breakfast or
don't have time to prep, you can still have something at work! Get a box of healthy cereal, Kind
bars or Bada Bean Bada Boom flavored dried beans to have something available if you forget a
meal.
After that, you can start to implement more meal preparation and invest a little more time in your
health and wellness. You can start to spruce up your yogurt with berries, nuts, granola, a side of
fruit or change it up completely! You can make protein pancakes, egg bake, breakfast burritos
or hard-boiled eggs with whole wheat toast and homemade nut butter. These are easy breakfast
or lunch meals that take a little prep time and are very nutritional.
Tip 2: Make your healthy meals in bulk and freeze the leftovers! This is such a simple and
effective way to ensure you have healthy meals available all the time. Freeze your soups, pork
roast with carrots and cauliflower, zucchini boats with shredded beef and salsa, veggie lasagna,
fajita meat with onions and peppers, frittatas, chicken and bean enchiladas, pumpkin & peanut
butter protein pancakes, turkey meatloaf with green beans, whole grain with blueberry and
pumpkin muffins, spaghetti with zucchini or spaghetti squash noodles – the options are endless.
Of course, you could also do meal prep and make any of these meals specifically to freeze
them. Many people plan on doing a meal prep day every week and make meals during this time.
If you have time for a couple hours of meal preparation every week, you can then focus on
making whole family-sized meals and/or individual meals to freeze as well as fresh meals, such
as salads with fresh grilled chicken/turkey/salmon, sandwiches, parfaits and protein boxes
(google search this, there are so many options for protein boxes).
Tip 3: If you eat out frequently, take a look at the nutrient information online for your favorite
restaurants. (Just google "*business name* nutrition" and you can normally find their entire
menu in PDF format with all their nutrient information). You'd be absolutely astonished by not
only the calorie and fat amounts in your normal meals, but if you also look at the sodium levels,
they are ridiculously high (which is especially important for those of you with high blood
pressure). For example, I looked over the nutrient information for one of my favorite fast food
restaurants today. At this restaurant, you can substitute zucchini noodles for wheat noodles in
any of the pasta dishes on the menu, which seems like such a healthy substitute. What they
hide from you is the amount of sodium that is added to their "plain" Zucchini – before sauce,
before cheese and before any other ingredients are added. A normal zucchini has 4mg of salt;
their zucchini has almost 1000mg of sodium (normal daily limit is 2000mg). Somehow, before
they even make your meal, they add 1000mg of sodium to these zucchini noodles, so look at
the menus of your favorite restaurants to see if your meal choices are truly healthy choices.
At the end of the day, if you are having troubles formulating your own nutrition goals, come on in
for a free 30-minute discovery visit. We can talk about how to set (and achieve!) realistic and
attainable nutrition goals through forming an individualized plan that will help you succeed.
Medical Nutrition Therapy with a Licensed Registered Dietitian may even be covered by your
insurance if you have BMI over 30, high cholesterol, high blood pressure, diabetes, renal
insufficiency or you have a family history of any of these diseases! Worried about finding out
what your insurance covers? I will figure that out for you when you come for your free discovery
visit.
If any of this sounds like you, or if you're having a hard time with your nutritional wellness or
you'd just like some general nutrition guidance, give us a call today!
Kyah Armitage LRD, RDN
Total Balance Physical Therapy and Fitness
1461 Broadway N Fargo, ND 58102
P: 701-293-6037 | F: 701-293-0242